Most of the market seemed to wait for $BABA to go live so it was a very very slow morning for me. I did take one Facebook trade (short). From now on I'll show where I scale out and where I close out. This trade was a scratch… I captured a little and closed out for -2$.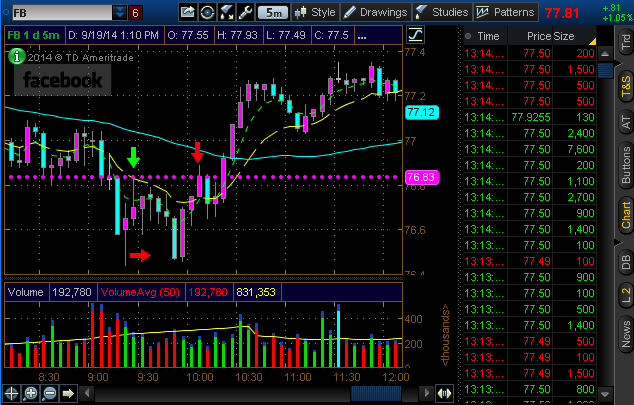 Once $BABA went live at 12EST some volume poured back into the market. My modified strategy included playing some slightly lower deltas to hopefully not get whipsawed so much.
I guess another modification I'm making to my buying strategy is to wait for a slight pullback before getting in. Ideally, I want to buy at a previous break out point. I sat here with my finger on the trigger to enter Twitter but couldn't do it. I did manage to get my setup but I could have gotten in for a much better price. At least this was a profitable trade and I finished the day green. That always feels good.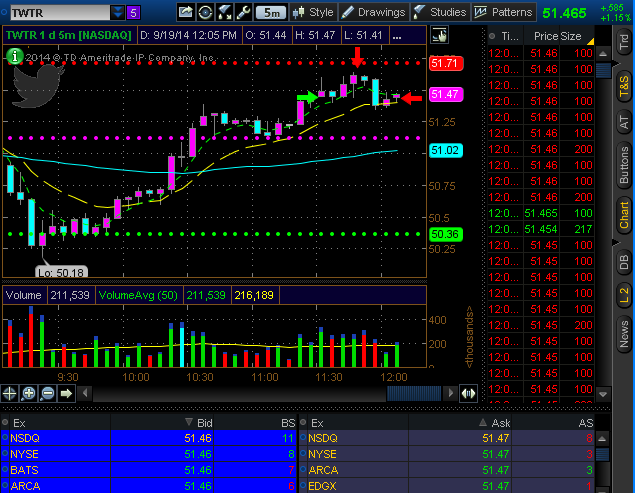 I was planning my entry around $51.15 but just couldn't do it. The more time I'm putting in, the more technical patterns I am seeing which is good. The faster I can recognize a setup, the faster I can enter a trade at a good spot.
A common occurrence in trading is leaving money on the table (selling too early). It is a good problem to have because it shows that you are locking in profits. However, as a trader, we like to call it 'the torture chamber' when you look back at a stock after you've sold and it makes a massive move.
The last 15 minutes of trading Twitter was just insanity. I just sat in here disbelief because those are the kind of moves that can wash away days of losses. Anyways, I ended the day green and I'll be ready for some explosive moves next time they present themselves. Have a great weekend.